Negotiating Aid- GOOD wait list news!
No April Fools Here! Staying together through the end.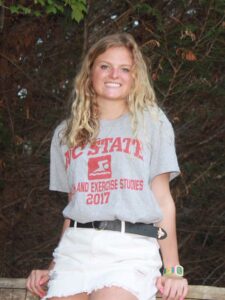 Pic…my kiddo at NC State Wilson College of Textiles
2021~ No PROM? Drat! But the college application process IS almost over, so celebrations and grad parties are on the horizon. AND…we are not done!
It is crunch time for many of you. The excitement level is high, you have your acceptances, waitlists may be sitting on the counter and you most likely cannot wait to pull the trigger on finalizing your college decision. And of course there is that pressure of "deposit NOW to get the best room…"- it's a pressure tactic…and one I succumbed to as well.
BUT WAIT! There may be an opportunity to negotiate for more aid and/or send in a good Letter of Continued Interest to waitlists.
The word on the street is that Wait Lists will be really active this year, so DON'T GET DOWN if you were waitlisted. Some schools have been overwhelmed with applications and are using the waitlist as a strategic tool, other schools simply did not fill and are anxious to negotiate with students who REALLY want to attend. You can find info on this subject in our Blog on the website.
If you missed the meeting with Mark Salisbury, founder of Tuition Fit, you can find out about his tuition transparency tool on our CLIENT PORTAL on the website: CLIENT PORTAL or here Tuition FIt. This awesome platform uses crowd sourced info (personal info redacted for privacy) to show you what other similar students/families received in regard to aid from similar colleges. ADVANTAGE- YOU!
We will be staying in touch with your family and would love to have you book a meeting to talk about your thoughts and decisions. And guess what…there is a link to book that meeting on our CLIENT PORTAL above too.
As we move toward May 1st, please look for our blogs and advice on transitioning to college. There are also many current topics being discussed on our FACEBOOK page @annapoliscollegeconsulting. There is so much information to share…it is like a firehose to the face. I try to curate the things that are right for you to understand.
We look forward to staying in touch and  having many of you stick around as ACC ambassadors for us on campuses (BIG ADVANTAGE TO THAT…HUGE…Really Cool Care Packages!) and for you being involved with our friends at College Scoops.
If going greek is in your future, we have connections with many alumni to help you as well as ideas for involvement at your college: club sports, senate, working with major donors, work study and more. So don't cut ties with us…we want to follow you on your journey toward success as well as help you thought the lumps and bumps of freshman year.
We are grateful for you all..
Lee & Mo & Kevin & Cori & everyone on our team says THANKS