We are so thrilled to offer an expanded number of services to our clients this year.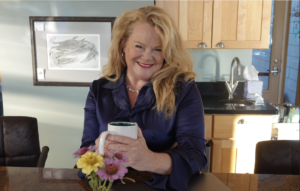 As the world continues to change, so does Annapolis College Consulting. We want to meet our clients where they are and offer service options that will provide comfort and confidence as they embark on the college application process. In addition to our award-winning comprehensive CONCIERGE PACKAGE, we are offering new services that may be found on our SERVICES page on the website. Our new services include:
Hourly Packages- Start with 5 hours and add more if you need them. $1400 for first 5 hours and $250/hour after that.
Essay Corner-Help with college essays from our clinics, 1-on-1 brainstorming, to the personal statement, personal insight questions, and supplemental help. Pricing on web.
Student Review- You send us your student's transcript, list of activities, GPA, Test Scores, and preferences, budget and our experts will give your studejt an "admissions overview." Then you meet with us for 90 minutes and we advise you on a college list and college fit for your family. $650
1-hour Overview- Talk with one of our experts for 1 hour and get the advice you need in order to move forward $250
AND FINALLY…….
Application Blueprint
A monthly curriculum for parents of college-bound teens in grades 9-12. Join a group of like-minded parents and get all of your college questions answered!
Live FB and INSTAGRAM talks.
Live Q & A sessions featuring experts in College Planning, Financial Planning, Recruited Athletes, Essay Writing, College Tours, Building College Lists, Testing, Scholarships, Merit Aid, Financial Aid, AP Classes, and more.
Monthly Webinars with industry professionals featuring TIMELY TOPICS and offering the best, most up-to-date information.
Downloadable/Fillable Blueprint sheets to design your student's college application journey.
Discounts on a menu of services that you may choose to use.
CHECK OUT OUR PAST SESSIONS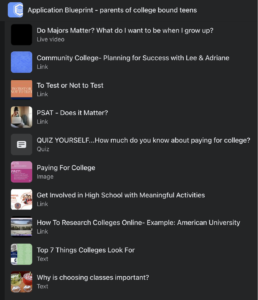 Our next session on December 14th features Moira McCullogh of College Scoops. We will talk about maximizing college visits and ways to use this interactive APP during your next college visit. The information is curated by parents and students. In fact, many of our past clients are AMBASSADORS to the SCOOP! This $99/year membership is being offered for $75 to our AB clients and ACC clients! See…it is worth it! So join now and GET THE SCOOP. 
Happy Holidays! If you join before December 30Th, your membership is FREE so sign up and invite friends and family!
After Jan 1st, membership is $49/month.your membership is FREE Just click here to join:
We love what we do and we hope that our expanded staff and new services will allow us to help more families in their college transition. We believe that no family needs to pay full price for college if they have a motivated student.