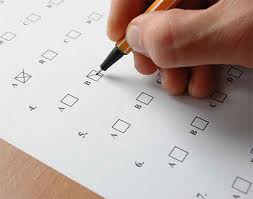 Register for Standardized Tests Now
Even if the submission date seems far away, there are many instances in which you might decide to submit earlier than expected. Applying to colleges early through Early Action will give you an advantage in both acceptances and in many instances, merit scholarships. Applying through Early Decision will give you an admission advantage, but probably no merit scholarships. It is important to note that the Early Decision option is binding and says you will attend a school if accepted. Early action is not. No matter which option you choose, it is important to be fully prepared with your best scores possible.
The good news is that as a high school senior you will probably get your highest scores yet. The less happy fact is that practicing for the ACT or SAT over the summer will help determine your success. This means balancing having fun and quality time with your books.
College consultants are seeing the more popular colleges' test scores rising each year. This means that the test score that would have gotten you in last year may not be enough next year. Below are the dates and links to register early so that you can go to the testing center of your choice.
ACT testing dates 2015-2016
| | | |
| --- | --- | --- |
| Test Date | Registration Deadline | (Late Fee Required) |
| September 12, 2015 | August 7, 2015 | August 8–21, 2015 |
| October 24, 2015 | September 18, 2015 | September 19–October 2, 2015 |
| December 12, 2015 | November 6, 2015 | November 7–20, 2015 |
| February 6, 2016* | January 8, 2016 | January 9–15, 2016 |
| April 9, 2016 | March 4, 2016 | March 5–18, 2016 |
| June 11, 2016** | May 6, 2016 | May 7–20, 2016 |
*No test centers are scheduled in New York for the February test date.
SAT testing dates 2015-2016
Below are the dates for the SAT.  March 5 is the first date for the new SAT and scores will not be available until June. Make sure to check the website for registration deadlines.
Additional fees apply if you register late or make changes to your test type, center or date after registering.
Sunday administrations usually occur the day after each Saturday test date for students who cannot test on Saturday due to religious observance.
Please check the SAT website for dates for the subject tests.
https://annapoliscollegeconsulting.com/wp-content/uploads/2015/06/test.jpg
199
253
Cori Dykman
https://annapoliscollegeconsulting.com/wp-content/uploads/2015/04/Annapolis-College-Consulting-logo.png
Cori Dykman
2015-06-27 13:14:49
2015-07-12 15:31:00
Standardized Testing before College Applications are Due