Planning
It is always a good idea to see a number of suitable colleges in the same geographic area. If you are going to a college that you are really interested in, ALWAYS go and visit another nearby
You never know when you will get that "…ooooh this is exactly where I want to be" feeling. Here is a list of colleges currently doing in-person tours. Remember that it is very important to book the official tour and info session and to check the website about COVID rules and masking. It is paramount that you understand all that the school can offer and get your questions answered. For planning? We love using COLLEGE SCOOPS because you get the real scoop on the schools from real students. It will tell you where to eat, sleep and play when visiting. We even have a special code: ANNAPCC-z21 If the college does not have an official tour, the College Scoops digital platform often has a self-guided tour that takes the guesswork out of your visit.
You can use the website GoSeeCampus.com, and click on Trip Planner which can show you routing from one university to another, as well as nearby hotels. Also, when you input each college on the list it usually gives you links to the colleges' websites so that you can sign up to attend the information session and the tour. Then it will tell you the distance between the schools, and the roads that you can take. Google Maps also works well for trip planning. Do not plan to visit more than two colleges in a day, as it becomes very stressful and hard to remember the details of each college.
Do You Need to Visit
The general rule of thumb that college admissions counselors use is that if you are within four hours of the school, you should take the time to visit the college to show that you are truly interested in them. Further than four hours the school does not require it, but you will need to show interest, see this article Demonstrate Interest. Touring colleges will help you determine what is important to you and broaden you understanding of choices, Options for Visiting a College  The college visit is an important opportunity for you to really understand what the college can offer you, and to see if it is a good fit. Do not fall into the trap of listening to what others say about a school, especially if they have never visited. 
Doing Research Before You Go
In 2021, almost every college and university has developed an upgraded virtual tour on their website. We urge you to take that virtual tour, find the colleges on virtual college fairs and get an understanding of the academic programs offered before you go. YouTube has lots of great info, but you can end up getting trapped and overwhelmed. Our YouTube Channel has curated some of the best videos and you can subscribe here. When researching on-line, here is a form that will help you: Virtual College Research.Check out YOUVISIT, UNIGO and other sites to get several different looks at the same school. And don't forget…the student newspaper is usually a great source of what is happening.
Eat at the College/Find the Popular Places to Dine
We generally recommend that families test-drive the cafeteria so that you have an idea of the quality of food and the atmosphere. You can usually purchase a 1 meal ticket at the entrance. You will be amazed and the numerous options and ethnic cuisines that are a part of college life these days. Whether you use your College Scoops guide or ask a friend…knowing good places to eat is really important. When things get back to normal, there is the possibility that you can either observe students in class or sit down and talk to some and get a more candid picture of the college. Students are usually very eager to share information about their school. So just ask.
See Classes/Interviewing
We suggest visiting schools when they are in session so that you can get a better feel for their students and the atmosphere. This can be done during any holidays or spring breaks, as well as quick visits on Saturdays. Most colleges give two tours on Saturdays and some also do Sunday tours. You can learn a lot from students who are on campus and they should answer your questions honestly. Just remember that there are many opinions, but the more information that you have the better your decision will be. The fall can be a very busy time for colleges, so you may need to plan quite a bit ahead to make sure you can be part of the information session and tour group. That information is found on the college website under admissions. If they offer a tour TAKE IT. If not, use the College Scoops self-guided tour or stop by the admissions office to see if they have a map. One place we always stop, STUDENT SERVICES. If it is a college that recommends that you interview with an admissions representative on campus, make sure that I have time to prepare you for the interview. Remember we teach interview skills! Here is a list of colleges currently doing in-person tours.
Use My Checklist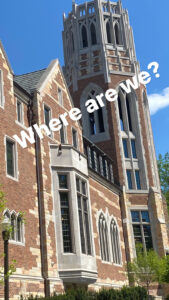 Use a checklist to write down your thoughts, so you won't confuse information from one college campus with another. Take photos and be sure to be in some of them and remember get a shot of the logo or name of the school in a photo (believe me, they start to blend when you look back.) While you are on the tour ask questions that you have to the tour guide or the person running the information session. After the visit take the time to record what you really liked, as well as the aspects that you did not. Think about whether that school could be your home for the next four years. Put an approximate rank on the school and feel free to change that as you go. These notes will help you when you need to make a decision at the end.