Today we'd like to introduce you to Lee Norwood & Alicia Blake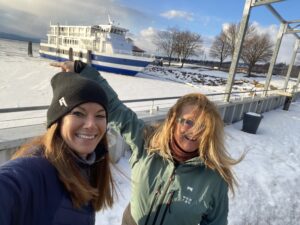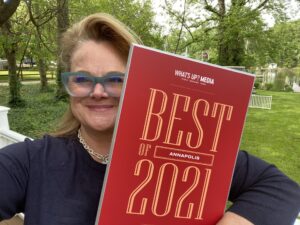 Hi Lee, it's an honor to have you on the platform. Thanks for taking the time to share your story with us – to start maybe you can share some of your backstories with our readers?
This is a story of two single moms figuring out how to raise our kids, run our lives, pay for college and save for retirement. Lee started a college consulting business 3 years ago and visits loads of colleges and Alicia is an avid traveler, nurse, and diabetes care specialist.
These high school friends circa 1985 reunited when they worked together in the pharma business and soon realized that they both love to travel, meet the locals, and do crazy things. So, they decided to leave the men at home and combine their travels. Philosophy? "There are 330 million ppl in America and we want to meet them," says Alicia.
"Having fun while working was the goal when we started visiting colleges," Lee tells us. "I dive into the curriculum from a counselor's point of view and Alicia checks out the vibe from a parent's point of view. We started documenting the trips and of course, Alicia being curious George started adding the wildest and craziest things we possibly could in each city we visit."
They travel well together and are energetic and inquisitive- so the next obvious step would be to try out for The Amazing Race. Lee had been looking for a partner for the race for years. She always thought it would be her son ….but after one road trip to Raleigh North Carolina, they both realized that they were not the perfect amazing race partners. Yes, they both survived the trip.
To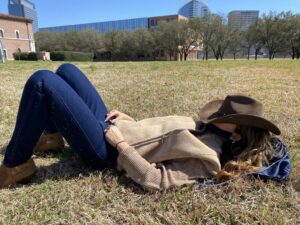 up the game and get some accountability, we started an Instagram and launched it last month in Colorado where Lee was speaking at a conference. They toured the University of Denver, UC Boulder, and Colorado School of Mines. What crazy thing did they do there? "We went to Indian Springs and sweated our asses off in the mineral caves," Lee laughs. "The water was amazing and we both felt wonderful the whole time we were there." Lee's cupping session left some bruises- but also gave her more mobility than she has had in years. And of course, Alicia visited the local gem shop and came out with a beautiful purple ring from volcanic ash – "It originated at Mt St Helen's," Alicia shared proudly.
Colorado did not disappoint.  They watched people rafting down the mountain and had a much clearer understanding of why Coors's Light tasted so good. "The water was my favorite part," Lee tells us. Alicia seems to always sample one flight of local beer- a constant on each trip.
THE TURO CONNECTION- "When we travel, we always rent a car through Turo. When in Texas we rented the biggest, badass Dodge truck with hood vents. We both had to jump to even get into the beast," Norwood remembers. "In Colorado, we rented a roller-skate named Coppertone. That 6° grade up to Indian Springs made it look like the little engine that could. Next up, we may go with a tricked-out van…why not?"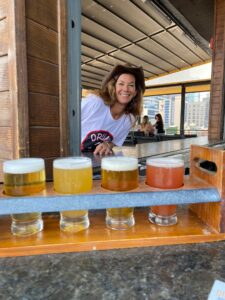 The previous trip was to the Northeast where they visited colleges in Maine, New Hampshire and Vermont and ended up dog sledding in the beautiful parks of Vermont with crystal blue water white snow and blue skies. "Yes it is true, those dogs definitely poop during the first part of the dog sledding trip and I was in the front," Alicia laughs. Next up, Glamping in Virginia. Lee and Alicia are headed to a TiPi with several other friends and plan on visiting two schools in Virginia while they camp with a little glamour…and do a high ropes course.
I'm sure you wouldn't say it's been obstacle free, but so far would you say the journey have been a fairly smooth road?
Our trips are always pretty smooth. We are both successful businesswomen looking for at least seven income streams. And we seem to think of one or two on every trip. Alicia now has a Turo car of her own.
"When we travel together any struggle that we have usually turns into an adventure or a laugh-until-you- cru moment; whether it is trying to rent a car in a city during a Little League baseball frenzy, trying to see the Violent Femmes at Red Rocks, or trying to figure out which is really the best restaurant in Boulder, Pittsburgh or New Hampshire."
Can you tell our readers more about what you do and what you think sets you apart from others?
"We have just enough age on us to know better and just little enough not to care" they agree.
We are really different and our lives went in completely opposite directions after high school. We have history and are making herstory since we reconnected a few years ago. We have been successful in college, in business, in our professions and in mothering our total of 5 kids. Now we want to successfully compete in the RACE.
"Our official business lives are only one part of who we are. We decided to apply for the Amazing Race because life always needs to be fun and we are always ready for the next adventure regardless of our ages." Oh year,  Alicia can't read a map.
What were you like growing up?
Lee was a cheerleader. Alicia was a nerd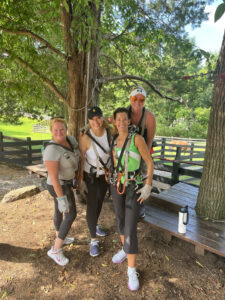 Contact Info:
Image Credits
We took all photos www.annapoliscollegeconsulting.com