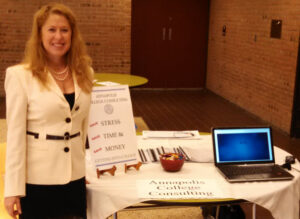 The college application process can be overwhelming for both the student and their family. Our primary focus is on making your journey as stress-free as possible by leveraging tools, sharing information from the many college visits that we conduct every year, and applying a wealth of real-world experience gained from our work with other students.
Our proven methods enable us to work together easily to achieve positive results no matter where you call home. Whether you live in nearby Annapolis, Severna Park, Arnold, or Riva, further away in Columbia, or even as far as, Delaware, Kentucky and Canada you will receive the same level of highly personalized service.
Add your story to our growing list of successful outcomes Take the first step to a bright future and request a free meeting with me today.
Partner Cori Dykman
Cori Dykman is a graduate of the University of Michigan's Ross Business School. She worked in the computer industry for many years and has been very involved in volunteering in the public schools system including at the Anne Arundel County Board of Education.  She is an educational consultant who relates exceptionally well to teens and understands adolescent and parental issues. Her warm tailored approach seem to consistently make the difference for the students that she partners with.
Since 2008 Cori has visited over 180 colleges, taken multiple courses, done extensive research, and has given talks and a webinar on college related issues. She is a professional member of IECA (Independent Educational Consultants Association) which is the most prestigious organization for educational consulting, in order to keep industry standards high and stay updated on this constantly changing and nuanced process.
Partner Mike Stapleton
Mike Stapleton is a graduate of the US Naval Academy, and a retired Navy helicopter pilot. He has spent his career after the Navy as a business leader in national security affairs.  He has been a corporate mentor for 6 years at CACI Inc, where he was recognized with an Inspired Leadership Award, nominated by his own employees for caring and ethical leadership.  He has assisted over 30 retiring military personnel with transition to the civilian workforce.  In this role, he improved resumes, helped with job placement, and provided interview and job search assistance.  As a corporate hiring manager, he has screened and hired hundreds of candidates for the past 15 years.
As a naval officer, Mike has taught Military Leadership at the Naval Academy, and was hoping to teach English there until he was asked by the Commandant of Midshipmen to be his Executive Assistant. In his tour at the Academy, he also served as a Company Officer, serving as military commander and professional mentor and role-model to 125 midshipmen. He has coached 7 applicants for Service Academies, with all seven being accepted to the Naval Academy—including his daughter Julie, a 2015 graduate.
As a volunteer sports coach, he coached the Naval Academy Women's ice hockey team for 2 seasons, coached the Naval Academy men's ice hockey team for a season, Archbishop Spalding High School girl's ice hockey team for 9 seasons, and a Cape St Clair team of 12-year old girls in the county softball league for two seasons.
Mike is an expert technical writer, who enjoys brainstorming, revising, and improving college essays, and resumes.  He mentor's students on how to write effectively, and originate interesting essay concepts, structure the document, and bring out the uniqueness of the student.  Being a hiring manager, Mike has interviewed over 100 employment candidates, and advises on body language & posture, dress, charisma, interview strategy, business courtesies, and stress management.
Mike has looked forward to joining Annapolis College Consulting for almost 10 years!  His lifelong interest in teaching and volunteering coupled with his corporate and military management and leadership is a perfect background for the college admission process.  He endured the college admission process with his two daughters and knows first-hand how overwhelming and daunting it can be without a proven method, structured pathway and an expert's advice.
IEC Intern Meghan Foeckler
Meghan Foeckler (pronounced Feckler), will be joining Annapolis College Consulting for a 3 month internship.  During her internship Meghan will be sitting in on some of the meetings with me & Mike.  She will then be opening an office of Annapolis College Consulting in North Laurel, MD in January of 2019 and begin taking clients.
Meghan graduated from Whittier College in 2009 with a Liberal Arts degree.  She also graduated with a Master of Science in Management with a specialization in Human Resources in December 2014.  She has over 5 years' experience of working in Higher Education specifically as an Advanced Academic Advisor, Military Education Coordinator (Fort Meade/NSA), and Associate Director of Admissions.  She has worked at a large state institution serving military and veterans students as well as a small non-profit STEM university where she worked with military/veterans, transfer, and high school students.  Meghan is currently an associate member at both HECA and IECA and will graduate with an Independent Education Consultant certificate from UC Irvine in 2019.  Her passion for helping people navigate the college admissions process is evident in the time and care she takes with each person.
From an article published by the Anne Arundel Development Corporation:
First Friday Success Story: November
Client Name/Owner: Cori Dykman
Name of Business: Annapolis College Consulting 
Type of Business: College Consulting
Cori Dykman has always had a passion for assisting students, especially in continuing education. She opened her own business, Annapolis College Consulting, in September 2008. Her goal is finding the right fit colleges for the student where they can fulfill their potential, succeed, and graduate. Ms. Dykman assists with the whole college process, helps build strong resumes, strategically brainstorms essay topics, teaches interviewing skills, and helps students receive merit aid scholarships. Most importantly her assistance and experience helps to improve the college outcome and manage the stress that this process can produce. Each student is unique, and she tailors her assistance to their personal needs.
Cori Dykman first came to the Small Business Development Center located in the Anne Arundel Economic Development Corporation in February of 2014. She wanted to market her business more effectively to attract new clients. Ms. Dykman knew this was a service that not only students, but parents would want to invest in to improve their child's chances of being accepted into their top choice school. It also increased their chances of graduation by identifying schools that fit their child's goals and dreams.
SBDC business consultant, Hollis Minor assisted Cori Dykman in reviewing her SEO optimization strategy to make sure clients could easily find her on the web. Hollis Minor helped outline a marketing strategy to include speaking engagements, articles, networking, and reaching out to test-prep consultants. In September 2014, Ms. Dykman began to meet with SBDC consultant Candace Pruett. Candace assisted with strengthening her social media marketing tools and continuing implementation of her marketing strategy. Since working with the SBDC, Ms. Dykman has reached her goal of clients, and is continuing to grow her business. Her impressive success rate is much higher than the national average. 85% of students are accepted into their first choice college, 90% of her students stay at the college they started at, and 90% of those students have graduated on-time, with some even graduating early.
Cori Dykman states, "Working with SBDC has been extremely beneficial from numerous vantage points. Firstly, preparing for the meetings inspires me to look at my business more globally. What areas should I be focusing on that I am not, what could I improve and how, and what do I need feedback on? The discussions and ideas have increased my sales and visibility in the college consulting marketplace. Hollis Minor told me that I should have people lining up to work with me, since on average I save them $60,000 on the cost of college through merit aid scholarships. With their help, I now have a thriving practice. I consider the advisors at SBDC to be excellent and worthwhile!"
https://aaedc.org/first-friday-success-stories-annapolis-college-consulting/
About My Counseling Process
My Free Introductory Meeting
I meet at a time that accommodates your schedule. Our meetings can be on weekdays, as well as on nights and weekends, so that it works for your family. After the initial meeting we can meet at my home/office, correspond via e-mail, phone, Skype, or FaceTime.
You are the Focus
I use a personality assessments to learn more about each student, and give them insight into what their strengths and weaknesses are. This information gives you possible majors as well as potential careers, and is tied to a national database to help you research those careers and give you specific information on salaries, growth of the sector, and brief descriptions of what you would be doing.
Your College List
After getting to know you, and asking you about your preferences, I develop a list of colleges that are a good fit. My tools help to make your college visit successful, so that you ask questions that are important to you.
We can continue to modify this list if your preferences change. I have visited over a hundred colleges and universities and continually stay abreast of changes and significant information. You are unique and we want to find you a place where you will thrive.
Applying to Your Colleges
Knowing what colleges are looking for drives our representation of your qualities. We pick essay topics which give you an edge with admissions officers. I focus on strong resumes and teach interviewing skills until you shine.
In order to give my students an advantage I am around in the summer before their senior year to help them fill out their applications so that they are ready for early admission, early action or rolling admission. No matter when you start, I help to reduce the stress and keep students focused on each task at hand.
So Many College Offers
If after getting into many college you are overwhelmed with the many choices, I can help. I have an unbiased and knowledgeable perspective to assist you in looking at your options. Most of my students fall in love with one particular college, and 88% of my students get into their top choice school.
Transitioning to College
I give you information so that you have a smooth and successful transition to college. Giving you packing list and tips to start your college career and be successful.
Staying in Touch
I am thrilled to stay connected with you and help you throughout your college career and longer. Hearing back from students who have successfully landed and giving them more help is part of this rewarding experience. Feel free to continue to reach out to me with questions that you have during college or just stop by for cookies and ice cream when you are around and tell me about your experiences.
No matter where you are on your path to college acceptance, we can help add your story to our growing list of successful outcomes. Take the first step to a brighter future and request a free meeting with me today.