If applying for colleges was overwhelming before, ChatGPT, social media, the mental health crisis, test-optional admissions, rising tuition costs, fewer available spots, and admissions court cases have really upped the ante. To help us understand the possible impact these trends might have on upcoming admissions, we turned to an expert who has been closely monitoring and writing about the higher education landscape for over two decades. Jeff Selingo is an award-winning journalist and author of many bestselling books, the most recent being Who Gets In and Why. We highly recommend you check out our entire chat with him. He brings so much excellent insight to the table. Read on for some of our key takeaways from that discussion.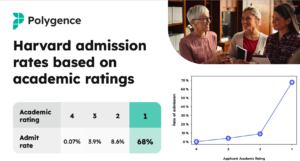 How do you get to the rating of 1? Start a project of your own.
Want to start a project of your own?
In the test-optional college admissions environment, unique academic projects are a proven way for students to stand out in competitive applicant pools. I'm excited to announce that Annapolis College Consulting has partnered with Polygence to support students with an enriching research mentorship program. With the help of advanced degree candidates, professors, and industry experts, students transform their interests and passions into unique research projects.The Polygence program consists of 10 one-on-one sessions with an expert in the student's chosen field, from the Humanities to STEM.

Students set their own meeting schedule over the course of 3 to 6 months and create a variety of products, ranging from podcasts to docuseries to creative portfolios. Students who write research papers can even earn college credit through Polygence with the University of California Irvine.

If you're interested in learning more, please reach out to me at [email protected] Or, you can submit your application directly using the Annapolis College Consulting link.
https://www.polygence.org/blog/who-gets-in-and-why-conversation-with-jeff-selingo