Washington College in Maryland pays homage to history and place
Published on March 21, 2022 by our colleague Karen Anne Hott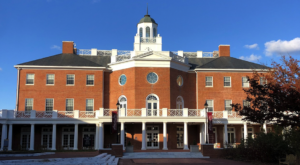 Washington College, in Chestertown, Maryland, on the scenic Chester River, makes full use of its history and its location on a tributary of the Chesapeake Bay. Recent land purchases along the waterfront have expanded its footprint and facilities, including a revamped boathouse and the new Semans-Griswold Environmental Hall, which reclaimed a site that was once storage for petroleum and chemicals.
As you enter Semans-Griswold, a wall with the Chesapeake Bay watershed depicted in wood greets you with information about "Your River, Your Bay." The hall includes spaces for study with a view of the river and native plants. Walking deeper into the building, you pass a closet with two walls of waders for fishing and performing water testing. Further on is an engineering student's dream toy room: a full lab of materials and tools to build gadgets that will be used in nearby elementary schools to teach and deploy tools for water monitoring. Even their moniker, "The Shoremen/Shorewomen," reflects the school's ties to the bay.
Semans-Griswold houses the Center for Environment and Society, where faculty and students combine environmental science, social sciences, and art. In fact, it's likely that you'll have a class in this building no matter your major. The center aspires to encourage creative problem-solvers who will address the pressing problems of the environment with a social lens.
Though Harvard, William & Mary, St. John's College and others were founded earlier than WC, this college was the first established in the sovereign United States (1782). George Washington gave it his name and 50 guineas, serving on the board of directors. Though Washington owned slaves, the school isn't changing its name; rather, they have the Asterisk Initiative, Washington College's way of reconciling its modern aspirations with the school's "historic complicity in systemic racism." Where you see an asterisk, they "share the unvarnished truths about the historic figures whose names are etched in stone and their relationship with the enslaved and oppressed people whose labor and sacrifice made WC's success possible."
I think it's always important to look at a school's mission and core values to see if its in sync with your own values. Their mission statement: "Washington College challenges and inspires emerging citizen leaders to discover lives of purpose and passion." Their core values: are integrity, determination, curiosity, civility, leadership, moral courage. But what does that mean in terms of a Washington College education?
Washington College is grounded in the liberal arts. Faculty and staff work with you to develop a program of study that fits your unique interests from the schools of humanities & arts, natural sciences & mathematics, and social sciences. They offer five dual degree programs and several pathways to post-graduate work, like pre-law and pre-health. Critical thinking, communication, and writing are integral to the curriculum.
With only around 1,000 undergraduates, Washington College has some surprisingly big offerings: the Sophie Kerr Literary Prize, the largest such prize in the nation; the Rose O'Neill Literary House, where you can learn new and antique printing methods; the Starr Center for the Study of the American Experience, where you can learn the history of Indigenous People of the Chesapeake and Revolutionary War campaigns; the Chesapeake Semester, paired with a trip to Costa Rica.
Don't let the hefty sticker price (they offer generous merit aid) or small size scare you away from Washington College. It has much to offer, and the faculty and staff want to help you find your passion and your purpose.
ACC thanks Karen for this awesome overview of our local gem.