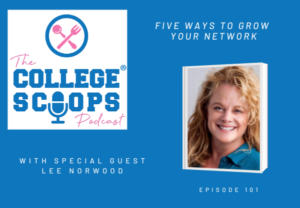 Networking is a key life skill and one that can start in high school. It all comes down to connections in life and as a high school or college student there are plenty of opportunities for growing your network locally at first. Lee Norwood shares her top five tips for how to grow your network.
Key Takeaways:
Start to build your network with people you already know
It does come down to who you know so start growing your network early with coaches, employers, neighbors, teachers, friends of your parents and parents of your friends.
Let people know you are thinking of them
Make good friends and be a good friend as that will go a long way
Networking may not come easily to everyone but you can start locally to build confidence
Attend a club fair and join as many clubs as you can in the beginning just to meet people as networking will get easier with practice and over time
Follow up if you have met someone new
Get out of your comfort zone and be open to meeting new people – sit in the front row in class, sit down with someone new in the dining hall
Take on leadership roles – RA, Newspaper, greek life, etc.
Be strategic about how you spend your time is a unique strength – get a job at the Major Donors Office
Show up early and stay late – you never know who you will meet
Send a handwritten note as it stands out
Join your alumni organization, FB groups, and greek life chapters
When you travel, reach out to the local alumni organizations to connect
Start local – make the ask of local businesses and you may find an interest or profession you might want to pursue
Do not spend a minute of your time on something you are not interested in
Top 5 Tips: 1) Start local -reach out to your neighbors, 2) Ask your hiring managers/employers for help, 3) Volunteer for associations you are interested in, 4) Get involved in local elections and organizations and 5) In college, connect and engage with student services, the Major Donors Office, and the Career Center
Courtesy of College Scoops.