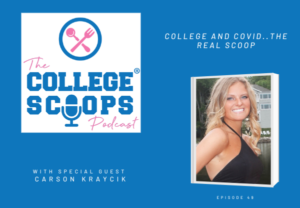 The transition to college is not always easy. It is hard and it can be lonely at times. Many students end up transferring but there are others who decide to stay and give it a go. We reached out to students to share their stories to help other students experiencing the same feelings, situations or thoughts especially now during COVID. Carson Kraycik shared her experience as a freshman at NC State and now as a sophomore navigating college and COVID.
Key Takeaways:
Get involved early and often as it is a hard transition to college no matter what everyone says.
Go to the activities hosted by your dorm, clubs, and activities as you never know who you might meet.
Meet with your professors as they offer office hours for a reason. They want to help and get to know students.
1st semester will present challenges, but if you can power through it, you will most likely find your people, your groove, and be ready to hit the ground running 2nd semester.
Most clubs are hosting virtual gatherings, meetings, and events so join in as they are working hard to engage the student community with interesting speakers and challenges.
Get a job as it is an opportunity to meet more people, earn some extra cash, and stay organized.